Highlights
Colbert reveals that he won't bring Donald Trump back on the show, as Trump had a different off-screen persona than during their interview.
Richard Branson splashed Colbert with water during an interview after he wasn't given enough time to promote his airline company.
Diane Keaton accused Colbert of harassment at the end of their interview, resulting in an awkward exchange and a disastrous finish.
Throughout his history on The Late Show, Stephen Colbert has enjoyed quite a run, but not every interview went to plan. And in fact, Colbert wasn't into every guest he brought on.
Colbert revealed one of his guests had a completely different persona off-screen compared to during their interview. That person was none other than Donald Trump. Colbert revealed that he'd never bring Trump back onto the show, putting the former President on the banned list.
Colbert had other awkward interviews as well. One took place alongside a certain billionaire. Things take a problematic turn after he isn't given enough time to promote his airline. Making matters worse, the guest responds by splashing the host with water. According to witnesses in the audience, the moment didn't seem to be planned, and looked completely organic with the host and guest both in shock after being drenched in water.
Let's take a look back at how it all went down, and what things were like when the guest returned years later.
RELATED – Stephen Colbert Walked Off The Set Of The View But Dropped His Character And Showed His Emotional Side When He Returned
Richard Branson seems to be very unpredictable, though he does have a knack for splashing water onto people. That was even the case years later when he surprised Mark Cuban by throwing water in his face. The Cubes was none too pleased with the moment on Shark Tank, and neither was Stephen Colbert.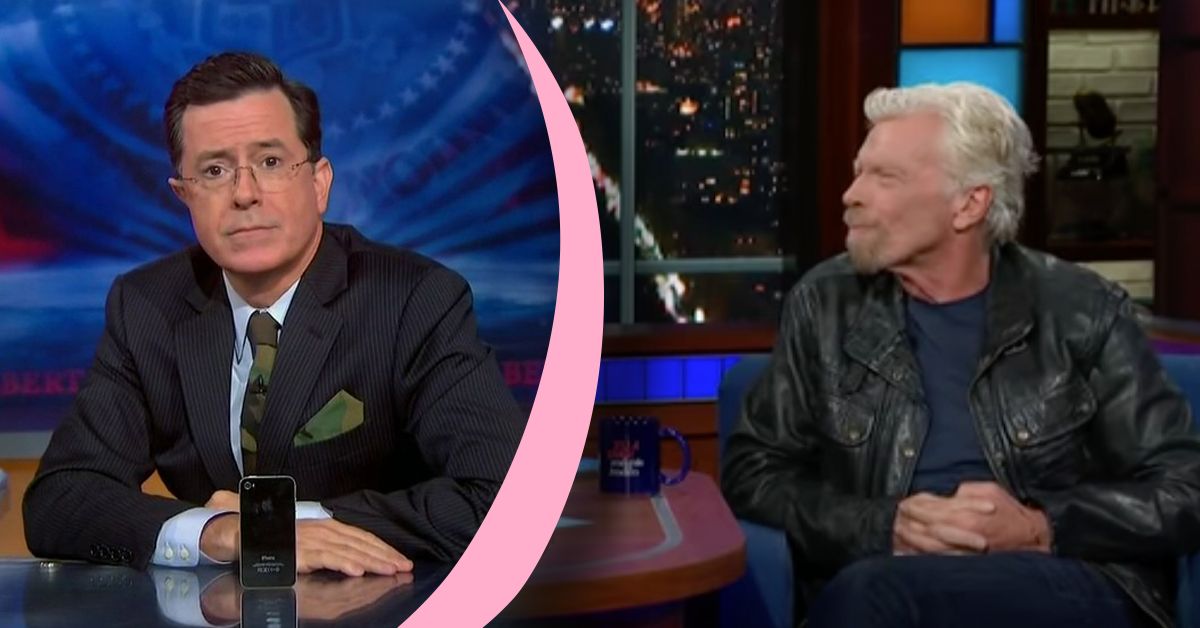 According to The Standard, Richard Branson threw water during a live TV tantrum. According to the publication, Branson wasn't content with the fact that he had no time to speak about his airline company.
The Standard writes, "An unnamed member of the studio audience told New York's media website FishbowlNY: "Branson was apparently upset that he wasn't able to give a direct plug to the new Virgin service and doused Colbert with his guest mug of water."
"Stephen was drenched. He took a beat, then signalled for his own ammunition for about twenty seconds until Alison (Silverman) ran and gave him her bottle of water, and Stephen retaliated."
RELATED – Matthew Perry Revealed With Stephen Colbert The Celebrity Death That Caused Him To Put A Hole Through Jennifer Aniston's Dressing Room
It was also said that Branson wanted to promote a low-cost service from the airline. Ultimately, it wasn't meant to be and those in the audience believed that the moment wasn't planned at all, and completely organic, as both sat in shock after being drenched in water.
Thankfully, Branson's follow-up on the show was a lot more tame in comparison.
Richard Branson's Return Interview With Stephen Colbert Was Much More Amicable
Branson's latest appearance on the show was a lot more tame in comparison. Branson shared his extraordinary space flight with Stephen Colbert on The Late Show. Branson admitted he was nervous about taking the flight, but everything went incredibly well, enjoying the once in a lifetime experience. Jeff Bezos was also going to space at the time, and got advice from Branson.
The billionaire tells Colbert about his advice to Bezos, "Sit back, relax, look out of the window. Absorb the view outside. Really take it in, it's a once in a lifetime opportunity, enjoy it."
RELATED – Stephen Colbert Went Off Script With Jennifer Aniston And Asked Permission To Talk About Her Outfit
This time, fans were a lot more positive towards Branson's appearance on the show.
One fan wrote in the comments section of the YouTube clip, "What a cool thing to do! What might help save the world is a change in perspective on a massive scale. The personal experience and perspective offered from space just might help."
Clearly, fans were very much into his story, and that includes Stephen Colbert. In truth, even when Colbert got water splashed in his face, it still wasn't his most awkward interview moment ever. That "honor" might go to someone else…
It Was Far From Stephen Colbert's Most Stressful Interview
Diane Keaton might get the award for most awkward Late Show guest ever. Colbert was put in a tough spot after Keaton accused him of harassment. This all took place at the end of their interview, resulting in a very awkward exchange.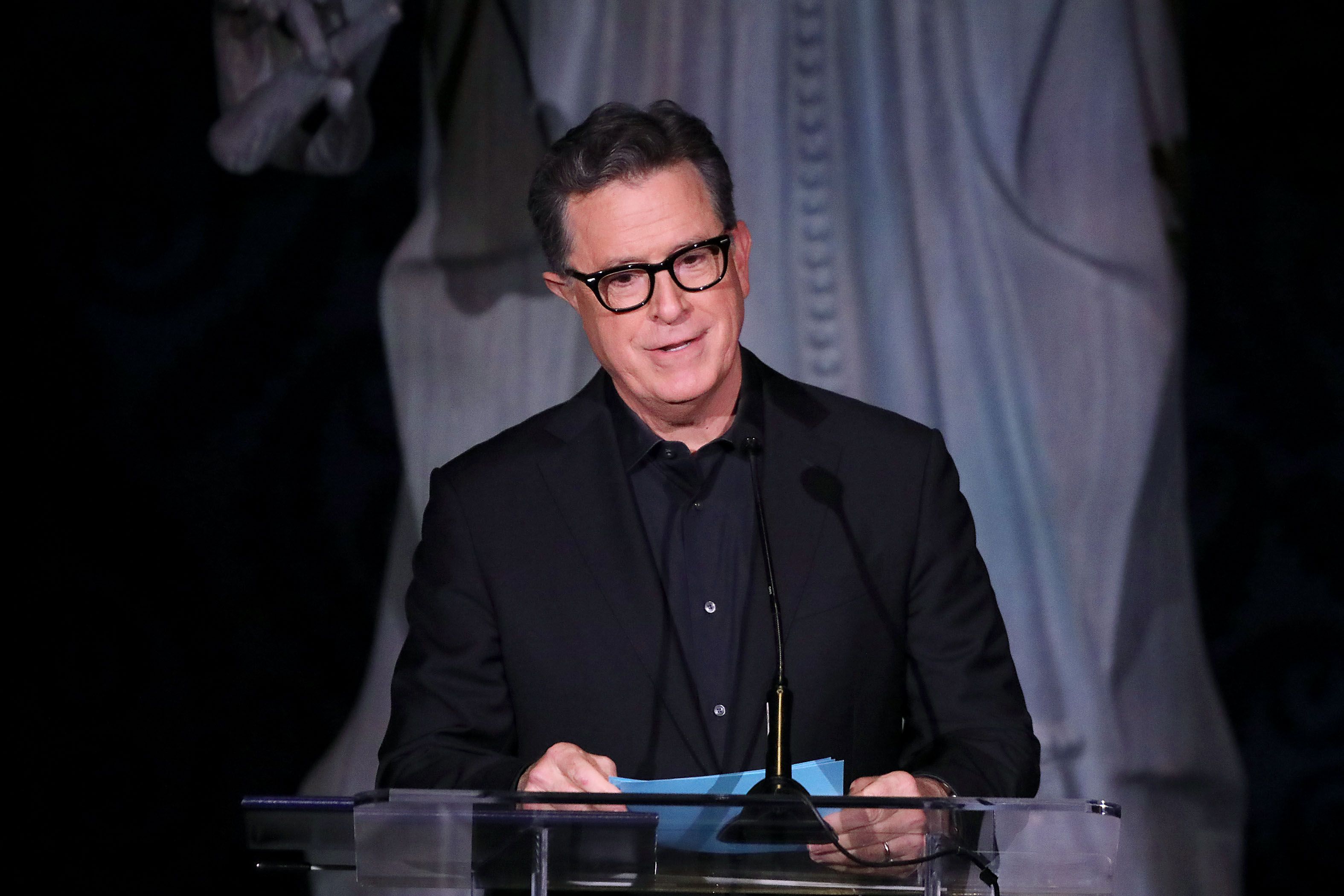 Keaton said after hugging Colbert, "Oh my god," she says while smacking Colbert in the chest. "I'm bringing you up on charges, you touched me." Colbert jokingly responds, "As well you should. We're gonna makeout as soon as the cameras go off."
The hug actually looked innocent, but Keaton didn't react in that way. Colbert tried to downplay the comment, but fans clearly did not forget.
As far as the fan reaction is concerned, many feel as though Keaton was very off during the interview. She even tried to exit the stage before Colbert was able to sign off. It turned out to be a disastrous finish to the interview. Looking back, it is definitely among the most awkward of Colbert's career.