Highlights
Stephen Colbert admits that Jesus is the one person he wishes he could interview on The Late Show, but his least favorite guest was Donald Trump, whom he called "disappointing" and "boring."
Colbert reveals that he had already interviewed Trump once and wouldn't want to do it again, emphasizing that Trump played the "reasonable man" during the interview and was unremarkable off-camera.
While the 2016 interview generated buzz, viewers were divided over Colbert's admission, with some finding it tame but amusing, and others suggesting that the ratings were higher because of Trump's appearance on the show. Colbert has not invited Trump back since then, which most viewers are fine with.
Stephen Colbert has interviewed many interesting people on The Late Show with Stephen Colbert, including some that Stephen himself has had to defend from his audience. Colbert admitted that there isn't really anyone on his list that he hasn't sat down for a chat with; the host named Jesus as the one person he wishes he could have on air who hasn't quite made it in yet.
When it came to his least favorite guest, however, Stephen had a lot to say. After asking Stephen who he wishes he could interview, Andy Cohen abruptly asked Stephen whether the host would like to interview Donald Trump. Stephen's reply? Been there, done that — and he is not keen to sit down with Donald Trump ever again.
Stephen Colbert Admitted His Worst Guest Was The "Disappointing" Donald Trump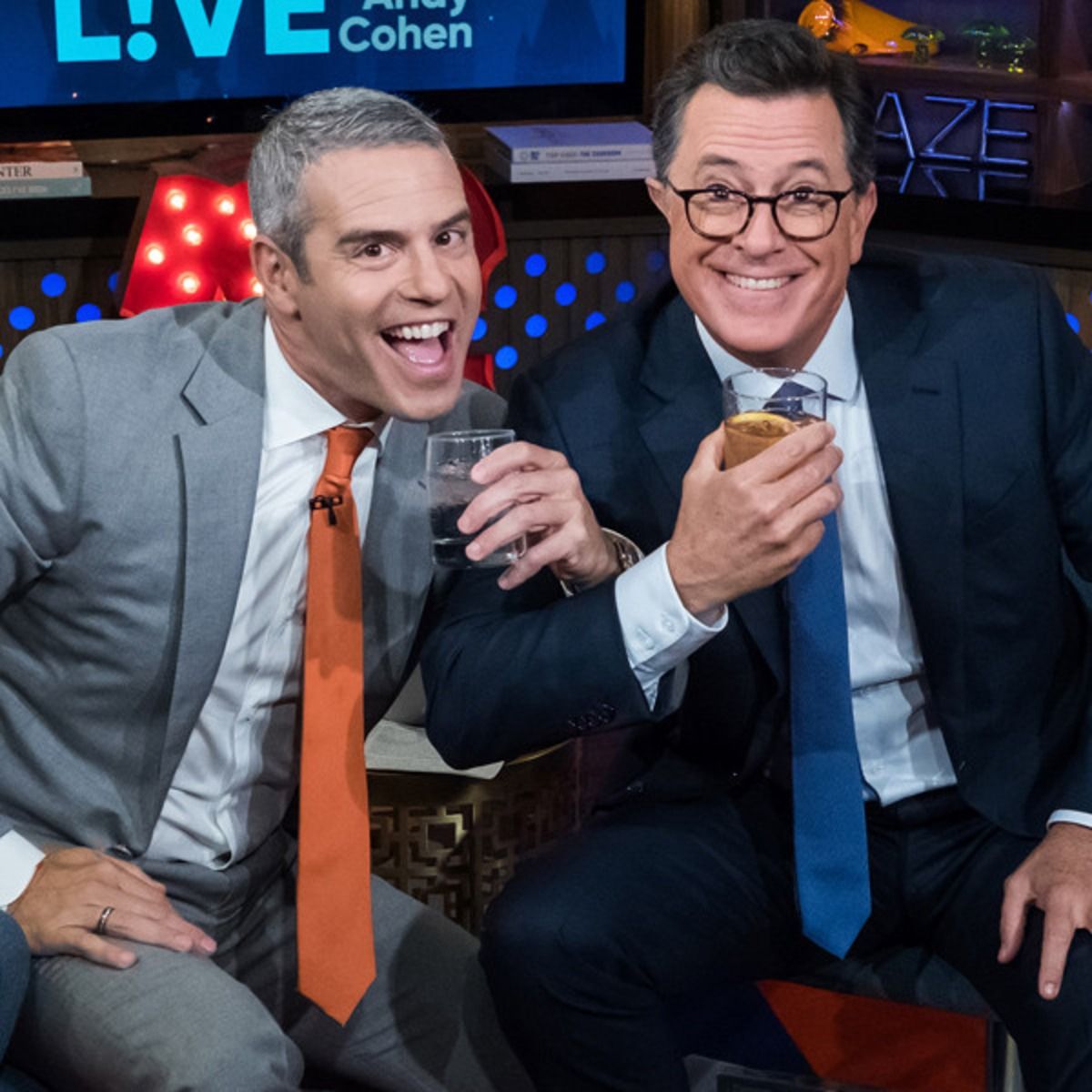 When Andy Cohen asked Stephen Colbert, "Would you wanna interview Trump?" Stephen had a very detailed answer. He confirmed that he had already, but wasn't interested in a repeat. In fact, he called Trump "disappointing" and "boring."
Colbert elaborated on his Trump interview; "I did once, I wouldn't want to anymore. I did once and he was actually kind of… um… disappointing because he played the 'reasonable man,' you know what I mean? He's always kind of in persona mode and sometimes he plays like the rallying populist and sometimes he plays reasonable man."
Andy Cohen kept a neutral face for most of Stephen's explanation, agreeing that yes, he had met Donald Trump many times.
Related: Stephen Colbert Challenged Kathy Griffin When Asking About The Fallout From Her Trump Photo
"Like if — you've met him I assume? — backstage he's just like some guy you might meet at a club you know, I mean 'country club,' not like disco," Stephen explained. At that, Cohen smiled.
"And he's very club-ish and he's… you know, there's… he's kind of innocuous in a way. There's nothing particularly remarkable about him, but then he puts on a persona for a camera and the persona he gave me when he was on the show the first time was actually very quiet and very reserved, like he played it very safe. He wouldn't even make eye contact for most of it."
Andy replied that this was, "Interesting."
Stephen summed up his feelings on the interview, noting, "He played it extremely safe and that's always boring. He's essentially boring."
Clearly, Stephen felt some type of way about interviewing Donald Trump, but instead of resorting to calling him out for any number of negative headlines over the years, Colbert was simply disappointed that Trump wasn't interesting to talk to.
Yet their 2016 interview ahead of the presidential election generated plenty of buzz at the time, which might be why viewers were divided over Colbert's admission.
Stephen Colbert Interviewed Then-Presidential Hopeful Trump In 2015
When Stephen Colbert interviewed Donald Trump in late 2015, he actually apologized. Stephen said he was sorry for the "mean things" he said about Trump over the years. Terming his comments "almost" unforgivable, Trump accepted the apology.
When asked whether he would like to apologize to anyone, Donald said, "Ah… no." Stephen then asked Donald about immigration and "the wall." The audience applauded, which Donald seemed to like, and the conversation segued into Donald's plans for the wall and having Mexico pay for it.
While Stephen turned the conversation into a joke — alternately role-playing as the president of Mexico and then suggesting 'fixes' like two walls with a fire-filled moat in between (and "fire-proof crocodiles") — the audience laughed and applauded.
Related: Donald Trump Once Fell For A Prank (And Cashed A Check Worth 13 Cents)
In the comments of the YouTube replay of the interview, people were surprised, looking back, that the Colbert-Trump interview ever happened. Many speculated that in current times, such an interview would never take place.
Some called it "strange to watch," while others joked about how Trump "describes stuff," gesturing with his hands while calling the wall 'big' and 'beautiful.'
One favored comment noted that the interview was "civilised, it is respectful, it is, for Trump's standards, surprisingly rational." Another called it the "calm before the storm," which seems to echo Colbert's sentiment about Trump putting on a specific "persona."
Viewers Were Divided Over Stephen Colbert's Most "Disappointing" Guest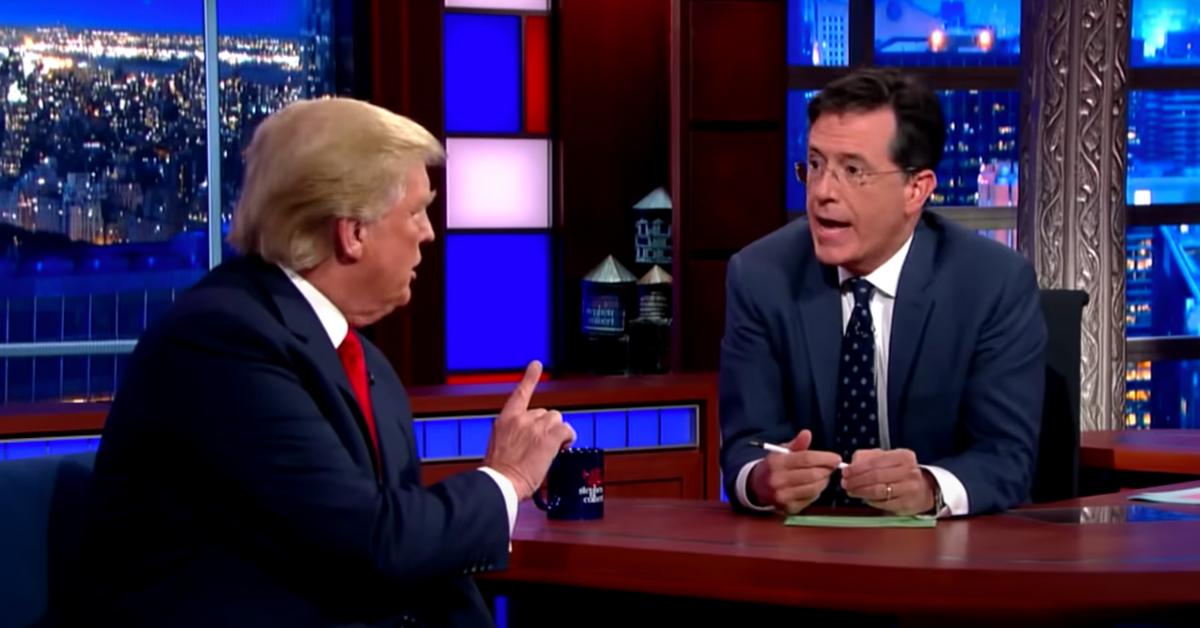 Viewers who rewatched the original interview clip between Donald Trump and Stephen Colbert largely seemed to think the interview was tame but amusing. Some suggested that no one believed Trump was serious — at that point — which made the audience reactions understandable; they thought he was being funny.
Interestingly, all the top-rated comments seemed to acknowledge how rare it was for Stephen to be chatting with Donald, but none was necessarily in support of the latter. However, many replies to those top-liked comments made jabs at Stephen's show, suggesting that the ratings were higher that night because Donald appeared there.
Related: Anderson Cooper Had This Criticism Of Donald Trump's Rally Music
Other replies suggested Stephen's show was "bs" and endorsed Trump's (now-failed) 2020 run for president.
Responses to Stephen's calling the Trump interview "disappointing" were also mixed, but far fewer people took the time to comment on Colbert's statements then. Either way, Colbert was true to his word; he has not had Donald Trump back on his show since their years-ago interview — and most viewers are fine with that.