Highlights
Kathy Griffin faced serious consequences after posting a controversial photo featuring a prop replica of Donald Trump's severed head, including a federal investigation and loss of work and friendships.
Griffin emphasized the magnitude of the backlash she received, stating that she was without a single day of paid work and even placed on the No Fly List for two months.
Anderson Cooper, a long-time friend of Griffin's, distanced himself from her after the photo was released, causing Griffin significant emotional distress. Rosie O'Donnell attempted to help Griffin understand the impact of her picture but noted Griffin's initial lack of awareness about the significance of Daniel Pearl's murder.
Kathy Griffin has been a successful comedian thanks to her take on celebrities. Throughout her career, Griffin has called out the behavior of many famous faces. Sometimes, this has backfired and Griffin lost famous friends due to stories told in her act.
However, when Griffin posted a photo from a shoot with celebrity photographer Tyler Shields in 2017, she experienced a backlash on another level. The photo featured Griffin holding up a prop replica of Donald Trump's severed, bloody head.
The controversy cost Griffin a lot of work and even more friendships. When Griffin explained the controversy to Stephen Colbert, the host was supportive, but still challenged Griffin in some areas.
Kathy Griffin Told Stephen Colbert The Backlash To Her Trump Picture Was Serious
In 2018, Griffin appeared on The Late Show with Stephen Colbert and discussed the fallout from her Trump photo. During her appearance, Griffin explained how far she fell during the backlash and how she was pulling herself back up.
For starters, Griffin wanted the audience to know how serious the situation was. Griffin said she was placed under a federal investigation and was threatened with the charge of "conspiracy to assassinate the President of the United States."
"Yes, I took a photo that changed my life irrevocably," Griffin said. "That was one thing. Because the walls caved in on me, and the accidental president, he tweeted against me, which made everything cancel in my life, basically."
After Griffin's photo was released, Trump tweeted, "Kathy Griffin should be ashamed of herself. My children, especially my 11-year-old son, Barron, are having a hard time with this. Sick!"
According to Griffin, she was still without "one single day of paid work" at the time of her appearance.
"I was in the middle of a 50-city tour, and within 12 hours I had not one single day of work ahead of me," she said. "And, by the way, to this day, I do not have one single day of paid work ahead of me."
"So I've been digging myself out of this rabbit hole for last year and a half," she added.
Griffin also said she was "on the No Fly List for two months" and argued the photo was covered by the First Amendment of the United States Constitution.
Related: Kathy Griffin Successfully Recovered From Her Health Battle, But Her Voice Might Be Changed Forever
"There are limits, though, what you can say about the President of the United States, specifically having to do with harm against the President of the United States," Colbert said.
When Griffin said she didn't wish or threaten harm against the president, Colbert responded, "Well, you're holding up a severed head."
Griffin replied, "No, it was a Halloween mask with ketchup."
Kathy's Friendship With Anderson Cooper Was Soured In The Aftermath Of The Picture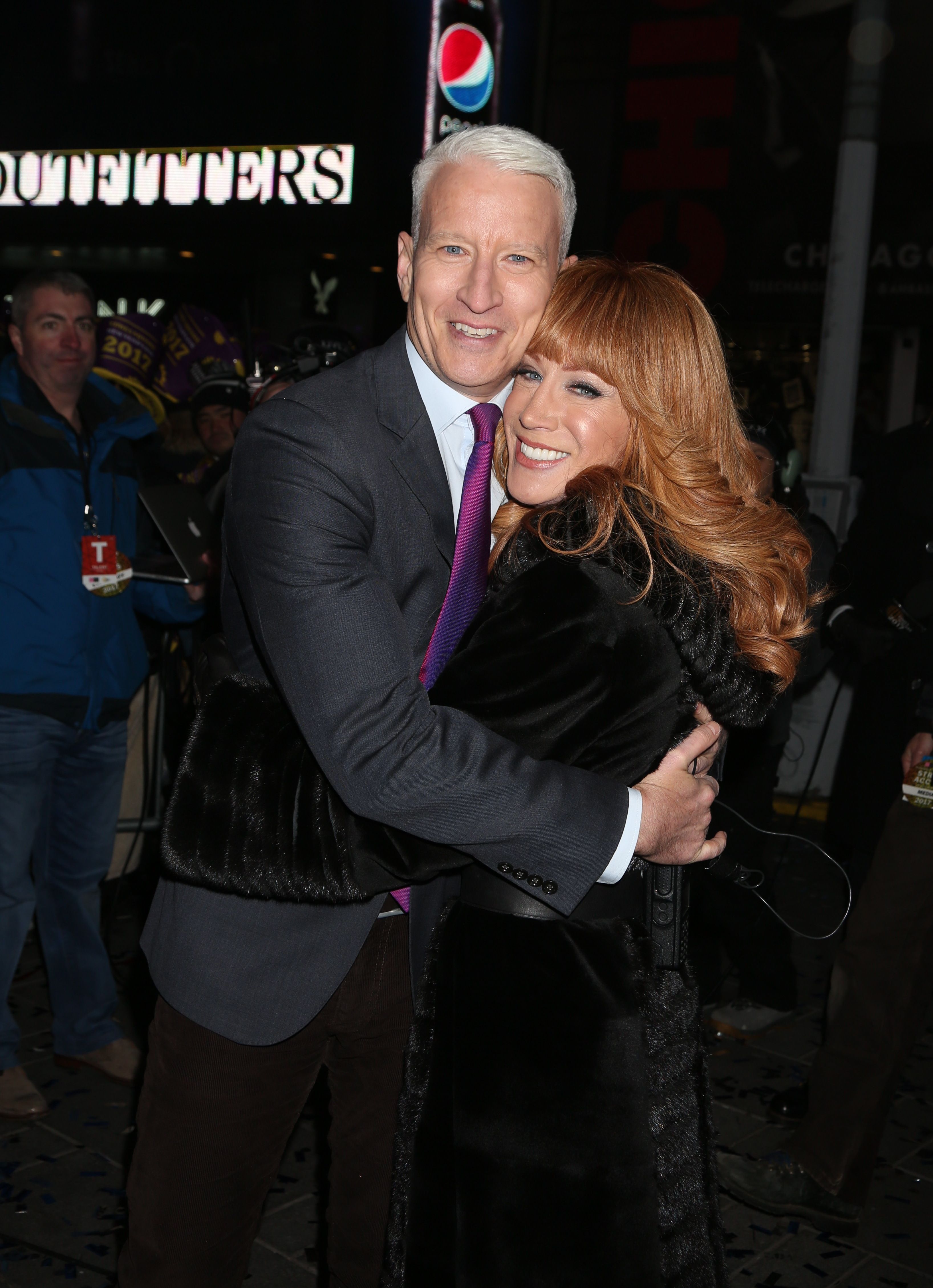 Another aspect of the aftermath was the loss of many celebrity friends. According to Griffin, most of the people she thought were real friends, didn't speak to her after the picture was released.
Among the friends she lost during this time was CNN anchor Anderson Cooper. When the picture was first released, Cooper wrote that he thought the picture was "disgusting and completely inappropriate" on Twitter.
Griffin was friends with Cooper for a long time and even spoke about him in her stand-up routines. After the photo was released, she was fired from the CNN New Year's Eve broadcast she previously hosted with Cooper for ten years.
Griffin has been open about how much the loss of her friendship with Cooper hurt. In a 2019 interview with Variety, she said that she "was devastated" over the abrupt end to their friendship.
"It still hurts. I mean, I really loved him," Griffin said. "I don't have a punchline for that one."
When she was a guest on The Wendy Williams Show, Griffin revealed that she didn't expect to receive an apology from Cooper, because he's "not that kind of guy."
Related: Kathy Griffin Was Caught Off-Guard When Called Out By Elisabeth Hasselbeck During A Live Interview On The View
Cooper addressed the issue during a 2017 episode of Watch What Happens Live where he surprisingly said the two were still friends.
"We're still friends. Look, I mean, I said what I said about [it] — I didn't think what she said was appropriate," Cooper said. "But I wish her the best and I hope she bounces back."
"She's incredibly funny and a lot of people love her," he added. "I think she'll bounce back from this."
Rosie O'Donnell Tried To Help Kathy Griffin Handle The Response To The Picture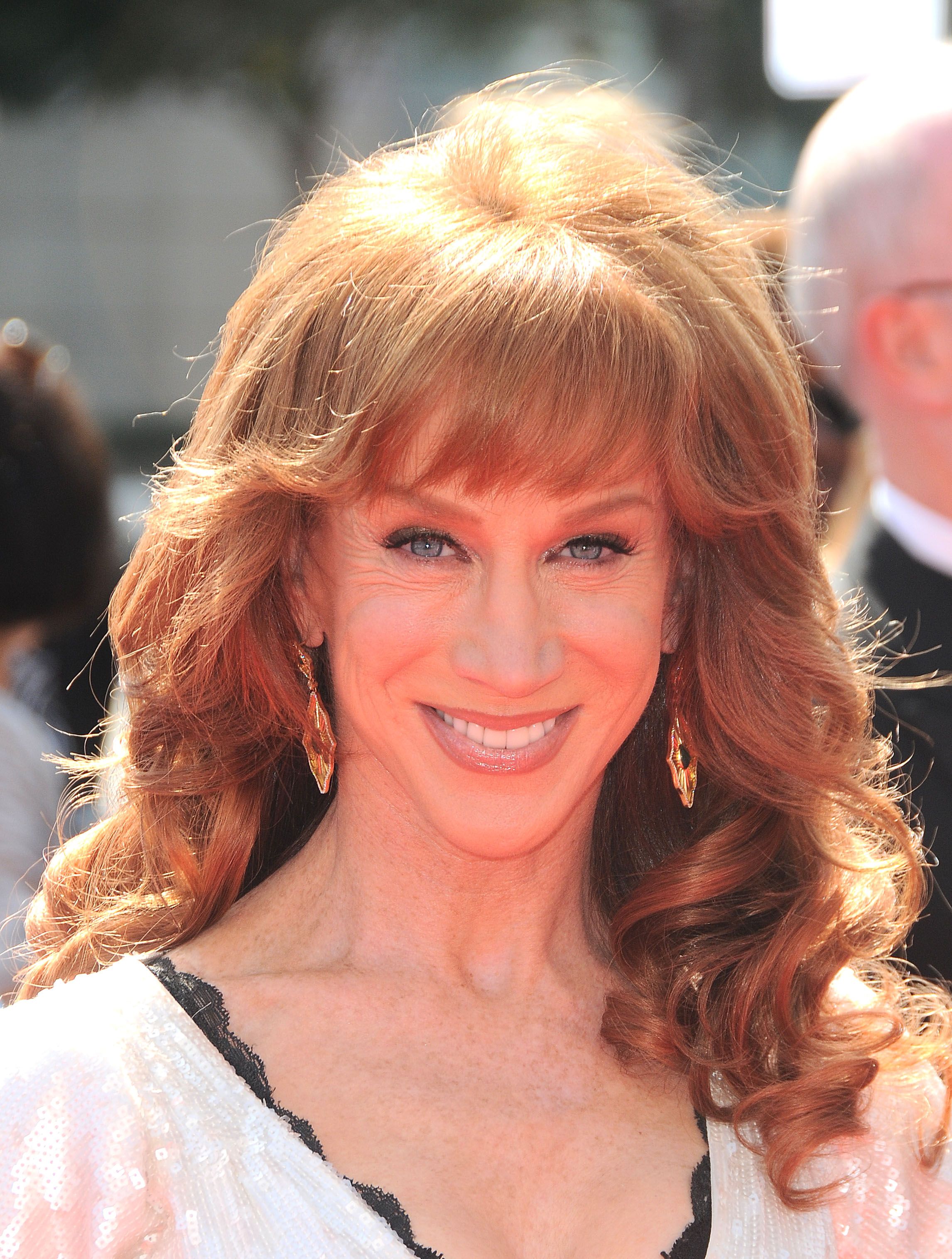 In 2021, Rosie O'Donnell spoke with Jess Rothschild on the podcast Hot Takes & Deep Dives. During the conversation, O'Donnell spoke about her need to help women who have been "canceled."
She began by discussing Griffin and how she called the comedian after her controversial picture was posted.
"We know each other," O'Donnell said. "We're friendly. We don't go on vacation together or talk on the phone unless there's something going on. But I like her very much. She's a nice woman."
Rothschild mentioned that Griffin recalled most of her famous friends disappearing in the aftermath of the controversy. She told O'Donnell that Griffin said she was the "most loyal" person to her following the release of the picture.
O'Donnell said that she attempted to help Griffin understand how the picture was in poor taste. She reminded Griffin about Daniel Pearl, a Jewish journalist who was murdered by terrorists in Pakistan.
Related: The One Celebrity That Tried To Warn Roseanne Barr Before The Tweet That Got Her Canceled
"She put up the picture and I called her right away and said, 'Take it down. Take it down and apologize. Daniel Pearl's mother is going to see this,'" O'Donnell recalled.
"Now she has re-remembered the story in a way that puts her in the role of, 'Oh, I was thinking of Daniel Pearl.' Trust me, she wasn't," O'Donnell continued. "She said, 'Who's Daniel Pearl?' So she didn't know. She didn't think about it."