Highlights
Leonardo DiCaprio recalls an awkward first meeting with Daniel Day-Lewis, which eventually led to Day-Lewis agreeing to star in Gangs of New York.
Day-Lewis, known for his intense method acting, briefly retired from acting before DiCaprio convinced him to return for the film.
The intense on-screen chemistry between DiCaprio and Day-Lewis in Gangs of New York left a lasting impression, as the actors still influence each other's career decisions.
Gangs of New York is a classic noir film that brought Leonardo DiCaprio and Daniel Day-Lewis's fiery chemistry to life. The film was critically and commercially successful, proving to be another hit for great filmmaker Martin Scorsese.
Related: Daniel Day-Lewis Lives A Secluded Life After His Supposed Retirement From Acting
However, the film had some behind-the-scene quirks, including rumors that Leonardo DiCaprio and Daniel Day-Lewis allegedly exchanged blows (not true). Before this rumor spread while the film was being shot, DiCaprio and Day-Lewis had a unique first meeting and Leonardo still wonders how it brought forth a positive outcome.
Leonardo Recounted An Awkward Meeting With Daniel Day-Lewis
Leonardo DiCaprio may be credited for convincing the award-winning actor Daniel Day-Lewis back in front of the cameras for the film Gangs of New York. However, their first meeting was anything but glamorous.
Leonardo DiCaprio recounted how unusual the first meeting between the actors was, stating it was awkward. As a big fan of Day-Lewis, DiCaprio was rightly nervous to meet the method actor. Leonardo DiCaprio spoke about meeting Daniel Day-Lewis in an interview with the Screen Actors Guild and how it all went down.
"I will never forget meeting him in New York. I went to his brownstone (house) and sort of knocked on the door, and he opened the door and goes, 'Hi, how are you?' and I said, 'Hi, nice to meet you, I'm Leonardo. He goes, 'Shall we walk?' And I go, 'OK'. We started walking through Central Park, and he didn't say anything to me for the first couple of minutes, so I said, 'Alright, I'm not gonna say anything to him either'."
"So, we kind of walked in silence, which for about 10 minutes in Central Park. The moment was incredibly surreal. I said I'm going to wait till he's ready to speak. Finally, in the middle of Central Park, he finds a bench and goes, 'That looks good. Would you like to sit?.' We sat down, and we started talking about acting," Leonardo revealed.
After talking, Leonardo immediately asked him, "I said, 'Look, there's a role of a gangster in turn-of-the-century New York, who's a butcher, who carries butcher knives with a top hat and a mustache in a Martin Scorsese movie. Who in their right mind wouldn't do this'?" DiCaprio said.
Although it took more talking at dinners to get the semi-retired actor to agree, Leonardo was able to get Day-Lewis to commit to the movie at the end.
This may have also helped the chemistry between the actors, with Leonardo understanding how intense Day-Lewis usually was with his method acting and equally matched it. Ultimately, coming back was a great decision for Daniel Day-Lewis. The film also bagged nominations for Day-Lewis and a BAFTA win.
Related: Leonardo DiCaprio's "Negative" Attitude During Casting Almost Cost Him A Role Of A Lifetime
Daniel Day-Lewis Was Retired When Leonardo DiCaprio Called
Three-time Best Actor Oscar winner Daniel Day-Lewis is known to immerse himself in his roles through method acting. Often using his form of method acting to understand and bring his characters alive, the actor has proven to be a distinguished performer people recognize.
Daniel Day-Lewis often has co-stars avoiding him because of his method acting, and he knows how intense he can get when acting a role. However, Day-Lewis often retreats after taking on heavy roles.
This led to his first semi-retirement after shooting The Boxer (1997). The actor retreated to Florence, Italy, where he improved his passionate craft, shoe-making and woodwork.
Nonetheless, he returned to the big screen in 2000 to star in the 2002 film Gangs of New York. Playing Bill the Butcher Cutting brought back the actor from his five-year hiatus from Hollywood. And this is thanks to Leonardo DiCaprio selling the movie successfully to him. Daniel Day-Lewis would continue to act and take breaks between projects.
However, Day-Lewis announced his retirement in 2017. Daniel Day-Lewis Spoke to W Magazine about his reason for giving up acting because he did not want to find it insignificant.
Related: Daniel Day-Lewis Told His Co-Star Not To Speak In His Natural British Accent Behind The Scenes During The Actor's Oscar-Winning Role
"I did want to draw a line. I didn't want to get sucked back into another project. All my life, I've mouthed off about how I should stop acting, and I don't know why it was different this time, but the impulse to quit took root in me, and that became a compulsion. It was something I had to do," Day-Lweis said.
Day-Lewis may be out of Hollywood, but maybe a good script and convincing can get the actor out of his retirement again, just like Leonardo DiCaprio did.
Working With Daniel Day-Lewis In Gangs Of New York Was Intense For Leonardo DiCaprio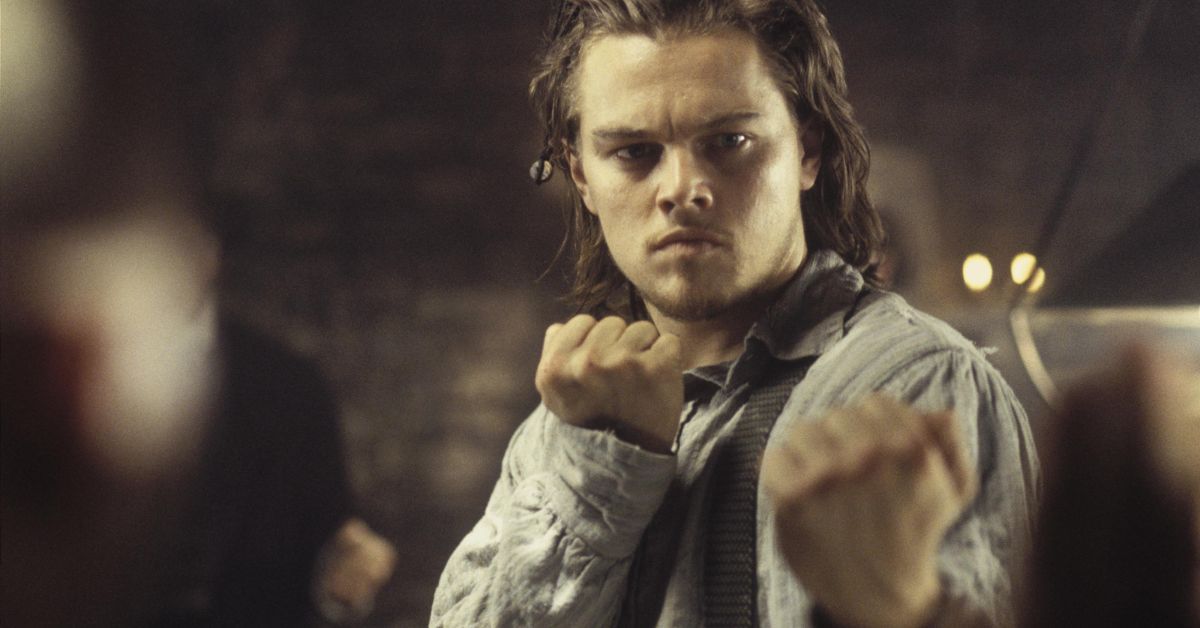 Gangs of New York told the story about a turf war between two rival gangs at Five Points, a slum in 1800s New York City. Leonardo played Amsterdam Vallon, the son of a former faction boss, who sought revenge against another faction boss, William "Bill the Butcher" Cutting, played by Day-Lweis, for the death of his father.
The film had enough violence and brutal fight sequences. People often still remember the Battle at Five Points as one of the best cinematography shots.
For the tense relationship between Leonardo's Amsterdam Vallon and Day-Lewis's Bill the Butcher, Leonardo DiCaprio cited the moments as intense. DiCaprio had to match the method actor while shooting scenes. And they barely talked during the nine months of shooting.
This form of dedication should not be new to the actor; after all, Leonardo DiCaprio ate bison liver for the movie The Revenant.
Their work together seemed to have left a lasting impression on each other because Leonardo DiCaprio and Daniel Day-Lewis still have some influence on each other when it comes to convincing each other to take on projects. This was the case for Day-Lewis accepting to play the biographical historical drama Lincoln.
Famous producer Steven Spielberg revealed how Leonardo DiCaprio helped convince Daniel Day-Lewis to star in Lincoln. This role later earned Daniel Day-Lewis his third Oscar and SAG awards and his fourth BAFTA award.
The relationship between Leonardo DiCaprio and Daniel Day-Lewis is not often talked about, but by Spielberg's account, it is close, and both highly regard the opinion of the other. This all started with a meeting filled with awkward silence, then the connection of the love of acting.