Highlights
Troye Sivan's appearance on Saturday Night Live and the parody by Timothée Chalamet signifies his growing fame and success in pop culture.
Sivan gave permission for SNL to use his song "Got Me Started" but was surprised by how they incorporated it into the skit, which featured Chalamet dressed as Sivan and attempting his choreography.
Sivan's new album "Something to Give Each Other" emphasizes the importance of community, celebrates queer culture, and showcases a range of experiences, including heartbreak and positive moments, while earning him Grammy nominations.
There are certain moments that take place where it's clear a public figure has made a significant impact on pop culture. This moment usually signifies a celebrity reaching a new level of fame or success.
One of these moments is being referenced and parodied by Saturday Night Live.
This very moment took place for Troye Sivan, who is no stranger to the legendary show. Sivan was portrayed by Timothée Chalamet in a skit and he reacted to the unexpected moment on social media.
The skit comes on the heels of a very successful period for Sivan, who is no doubt experiencing new levels of success.
Troye Was Parodied By Timothée Chalamet During A Skit On 'Saturday Night Live'
When Sivan was parodied by Chalamet on SNL, he wasn't oblivious to the fact that the show had something up their sleeve.
According to the singer, the show asked permission to use his song "Got Me Started" in an upcoming episode. Sivan just wasn't aware of how they planned on using it.
In the skit, Bowen Yang plays a doctor talking to his patient (played by Sarah Sherman) about her sleep paralysis. The patient describes the figure she's been seeing to her doctor. It turns out, this figure was none other than Sivan (played by Chalamet). Chalamet was dressed in the same outfit Sivan wore in his "Got Me Started" music video. Chalamet even attempted some of the choreography.
After the skit aired, Sivan took to social media, saying on TikTok, "The only way that I can describe this is it's like a weird f****** dream. Like imagine… I'm like, no, Timothée Chalamet was in my dream, but he was me, and he was wearing my clothes and he was doing…"
Related: The Top 8 Troye Sivan Music Videos Ranked By YouTube Views
Sivan also shared a clip of the skit on his Instagram and wrote in the caption, "WHY IS LIFE SO WEIRDDDDD RN LMAO IM DEAD."
As the skit ended, the Sivan sleep paralysis figures multiplied. The other versions of Sivan were played by Phoebe Bridgers, Lucy Dacus and Julien Baker of the band boygenius, who was the night's musical guest.
Troye Released His New Album 'Something To Give Each Other' In October
Sivan's new album "Something to Give Each Other" was released in October. The album is Sivan's first in five years. However, he has been very active in the years since his sophomore album "Bloom" in 2018. Sivan has released several one-off singles and an EP "In A Dream."
Sivan recently spoke to Vogue and discussed how the album came to be.
"I moved away from my family when I was 18 and came to a different country, and finding queer community here, I just immediately felt at home," Sivan said. "I'm so inspired. There's such an unspoken feeling of home and familiarity. It's a sense of humor, it's a sense of style, it's the coolest thing in the world to me. Community is a really important theme on the album—it's a huge part of what the album is all about, which is celebrating that and celebrating each other."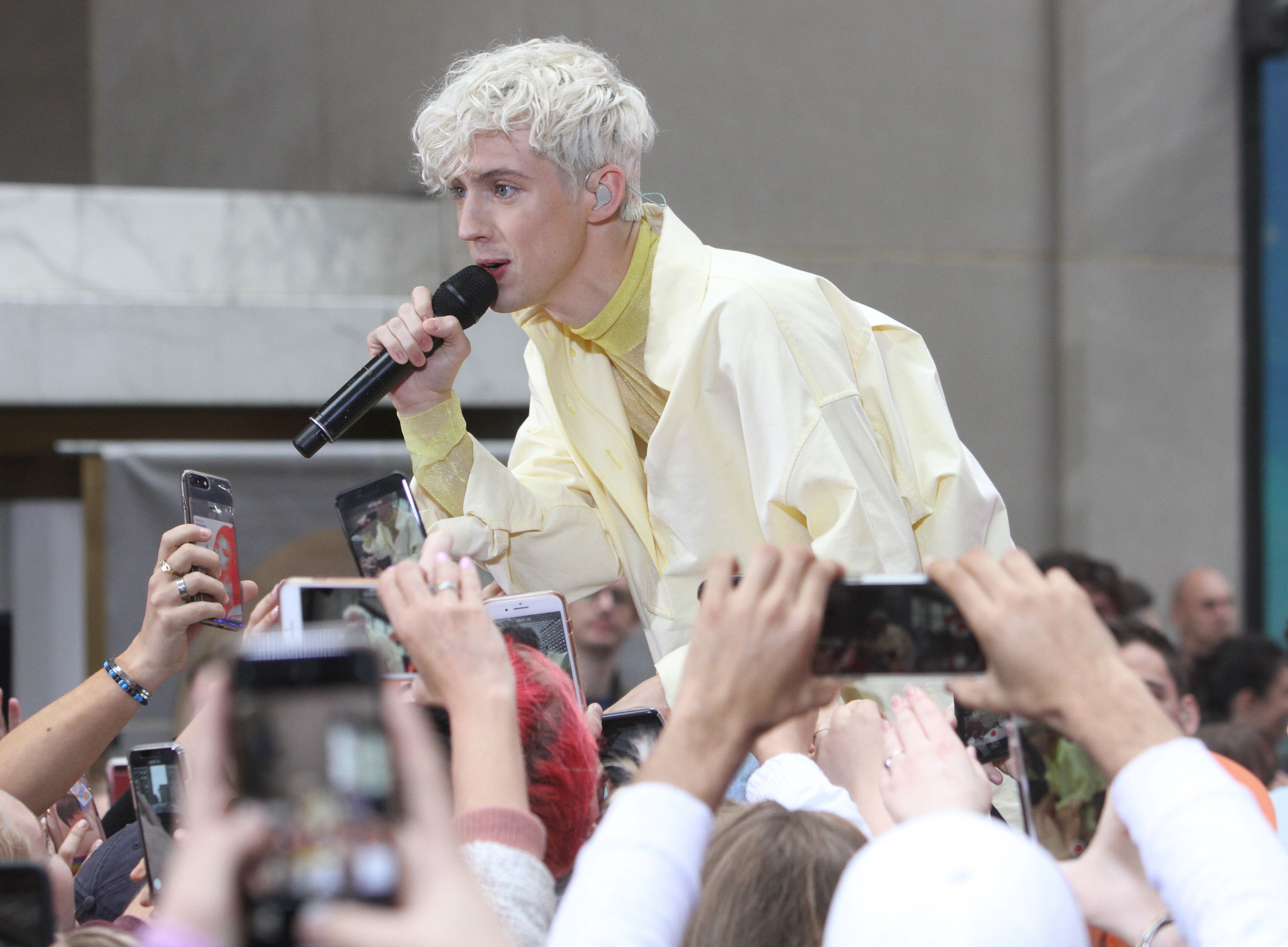 When Sivan began working on the album, he was going through a breakup and expected heartbreak to be the album's theme. However, he said the direction of the album took an unexpected turn.
"I was ready to make this depressing breakup album, and here I was having the time of my life feeling just grateful for the people around me," he said.
Sivan told British GQ that many different experiences began to inspire him, "whether it's a one-night stand, or someone that you meet for 10 minutes at a club, or somebody you end up dating for like a couple of weeks."
"I started to get crushes, and realized that I wasn't emotionally dead," Sivan said.
Related: How Troye Sivan Really Felt About The Sam Levinson Controversy Following The Premiere Of The Idol
However, with all the fun and positive energy the album contains, there are still some emotional songs.
"It's also an honest album, so there's some low moments—only two, really—that are ballads about loneliness or reminiscing on the past," Sivan said. "It's a collection of all the experiences of the last two and a half to three years. I feel really lucky to say this, but I'm in a really good place, so the album feels like that."
"The ballads explore feelings that were much stronger a couple of years ago than they are now, but it's sweet to me to feel like they actually contributed to the depth and range of experiences that are explored on the album."
Troye Was Nominated For His First Grammy Thanks To The Music Video For 'Rush'
Sivan announced the title and release date for his album on July 13, 2023. He also released the album's first single "Rush" that same day. The high-energy dance track climbed the Global Spotify Chart, becoming Sivan's highest streaming song in a single day.
The song's video got a lot of attention as well. The clip features Sivan and a bunch of scantily clad men having a good time. The video is brilliantly unapologetic in its queerness and has a fashion editorial aesthetic. Sivan credits this look with the video's director.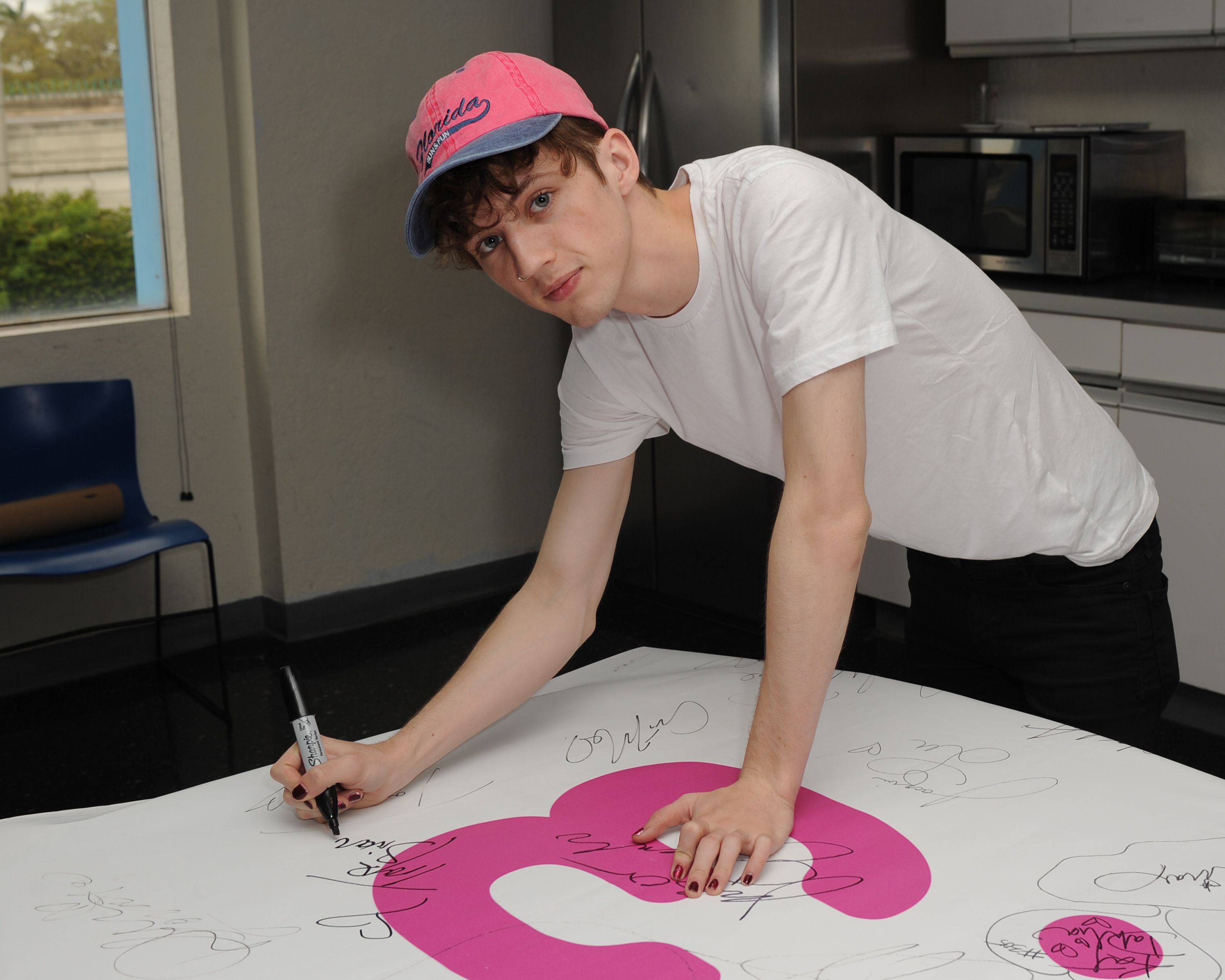 "When it came to doing this video, the first thing I knew was that I wanted to make it with Gordon von Steiner," Sivan said. "I've wanted to work with him for so long. We had never worked together and he had never done a music video, so I think it was both exciting to him and to me, and we're just friends. Stuart Winecoff, who shot the video, I've worked with a bunch, and he's also, like, Gordon's best friend. It felt like a friend trip to Berlin, where we filmed the video. It was awesome."
Related: These Are Troye Sivan's Most Personal Songs
He added, "I also told Gordon that, for this video, I wanted to be able to pause it at any point and it would still be a gorgeous image, and he did it."
"Rush" would win Song of the Year, Best Produced Release and Best Engineered Release at the 2023 ARIA Music Awards. The track even earned Sivan a trophy for Best Solo Artist at the ceremony It was also nominated for Best Pop Dance Recording and Best Music Video at the upcoming 66th Annual Grammy Awards.