Highlights
Despite rumors of infidelity, Marjorie Harvey has denied cheating on her husband, Steve Harvey.
Marjorie addressed the rumors on her Instagram page.
A family friend spoke on behalf of the couple, confirming that the cheating allegations were fake news.
Comedian Steve Harvey and his wife Marjorie Elaine Harvey have long been a couple fans have admired. Not only has their marriage lasted for over a decade, which is rare in Hollywood, but they've managed to forge successful careers and businesses while raising a loving and beautiful family.
However, while their image had remained one of love and respect for one another, fans would discover that, like most couples, they've had their share of issues, but unlike most normal couples, the Harvey's dirty laundry was aired for everyone to see and discuss; case in point, the rumors that began to circulate in Hollywood that Marjorie Harvey was having an affair behind her husband's back.
The news rippled across the entertainment media and dominated headlines for weeks. But what caused the rumors that seemingly came out of nowhere? And what has Marjorie Harvey said about the allegations?
What Has Marjorie Harvey Said About The Rumors She Cheated On Steve Harvey?
Steve and Marjorie Harvey first met and dated in the early 1990s, only to reunite and marry in 2007.
The pair already had children from previous marriages, with Steve Harvey having four kids and Marjorie having 3, but when they all came together, Steve Harvey adopted his wife's children.
Related: What Did Steve Harvey Think Of His Daughter's Relationship Struggles With Michael B. Jordan?
The Family Feud host and his wife appeared to have an idyllic life together, living in their nearly $15 million mansion in an affluent town in Atlanta, Georgia. And, of course, the couple had always sung each other's praises, with Steve saying:
My marriage to Marjorie is the most rewarding thing that ever happened to me. She gave me a life and a relationship that I didn't know existed.
Marjorie said in an interview with Essence magazine:
I wish every woman can find a soulmate like I've been blessed to find. This is really my best friend. I can talk to my husband about any and everything; he can talk to me about any and every thing. We complement each other and we bring out the best in each other so it's just a beautiful relationship all the way around. We laugh together. I love his sense of humor.
However, in August 2023, rumors began to circulate on social media that Marjorie Harvey had been cheating on her husband, Steve, for quite some time. What made the claims even more salacious was that Marjorie had allegedly cheated on Steve with his personal chef as well as his bodyguard.
Not only did the news shock people around the country, not least of all because everyone assumed the couple was the epitome of perfection, but also because Steve Harvey is also a well-known relationship guru who has given relationship advice on his talk show as well as in print most notably in his best-selling book "Act Like A Lady Think Like A Man."
When the news came out, several media outlets claimed the Harvey's were headed for a multi-million dollar divorce. However, Steve Harvey later debunked that claim along with the allegations that his wife cheated.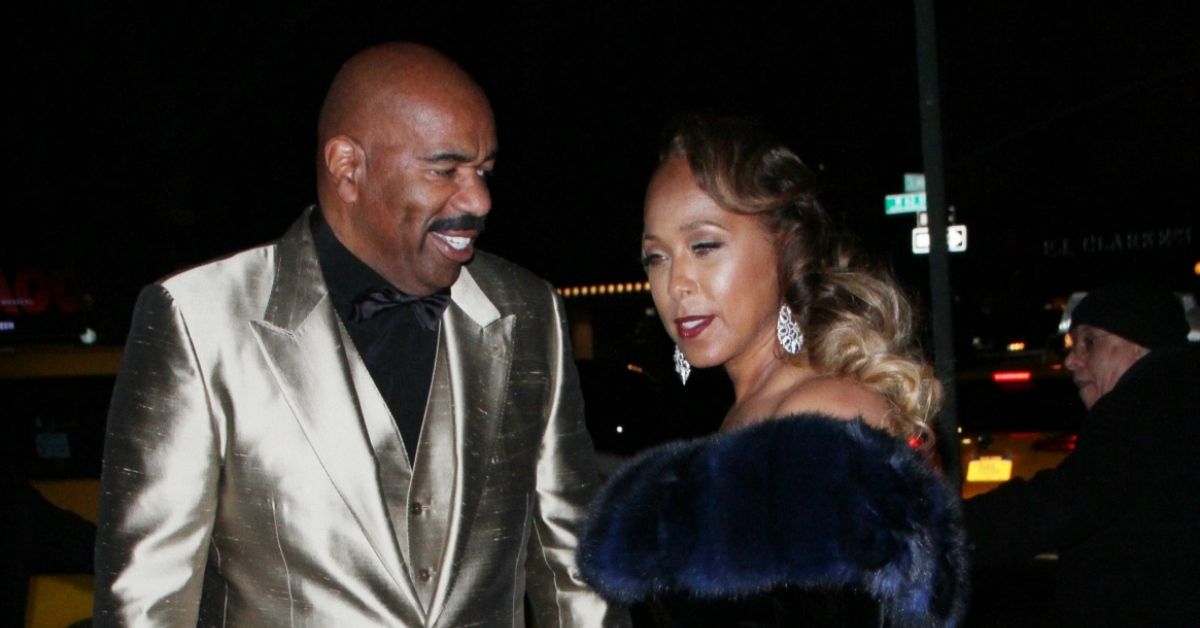 At the Invest Fest in Atlanta on August 27, 2023, Harvey stated:
Before I get started, just let me say, I'm fine—Marjorie's fine. I don't know what y'all doing, but find something else to do, 'cause we fine. Lord have mercy Man. I ain't got no time for rumors and gossip. God's been good to me, I'm still shining.
But what did Marjorie Harvey have to say about the cheating allegations?
Related: Steve Harvey Went Off-Script And Got Emotional During Family Feud After He Spotted A Surprise Guest In The Audience
Well, the comedian's wife later took to her Instagram page to set the record straight.
In a post with a picture of an article titled: "How To Handle Being Lied About," in the caption, Marjorie wrote:
My husband and I don't usually stop to address all the foolishness and lies that have been spread about us. However, to whom much is given much is required. I understand that with my platform comes some sort of responsibility to those that may not be as strong as we are. I understand that with my platform comes some sort of responsibility to those that may not be as strong as we are. Read and share this with your loved ones that may not know how to properly cope. God Bless all of you.
While Marjorie has refrained from going on record to further deny the cheating allegations, according to a report by SportsKeeda, a family friend of theirs, esteemed Nigerian politician Ned Nwoko, spoke on the couple's behalf by saying that he had conversed with them about the cheating rumors.
Nwoko then revealed that the Harvey's said that they were doing fine and that the allegations were all fake news.
Did Marjorie Harvey Break Up Steve Harvey's Previous Marriage?
In addition to the rumors that Marjorie Harvey cheated on her husband, Steve Harvey, with his chef as well as his bodyguard, the former was also caught up in allegations that she broke up Steve's marriage to his previous wife, Mary Lee Harvey.
Steve Harvey married his second of three wives, makeup artist Mary Lee Harvey, in 1996. While the two had known each other since 1989, the couple were rumored to have begun dating while Harvey was still married to his first wife, Marcia.
Shortly after his divorce from Marcia, Harvey and Mary welcomed a son, Winston.
Related: Steve Harvey Revealed His Worst Interview Segment Ever
The couple's marriage only lasted nine years, and according to court documents, they split up due to irreconcilable differences.
However, later, Mary Harvey would claim — in a series of interviews she did about her failed marriage to the comedian — among many other things, that Harvey had cheated on her with his third wife, Marjorie Harvey.
According to a report by The Huffington Post, Mary stated that during their second wedding anniversary, she intercepted love letters and emails between Harvey and Marjorie, the latter of whom she described as his mistress.
Not only did Steve Harvey deny these claims at the time they were made in the early 2000s, but he was forced to address the rumors when they resurfaced again in 2023.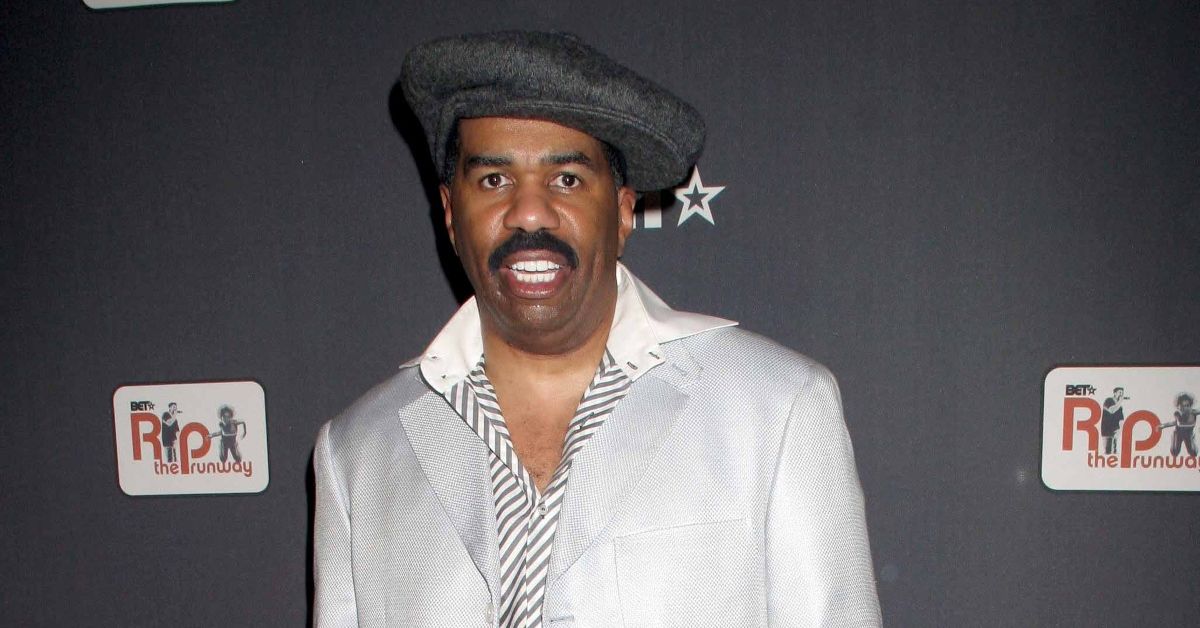 The comedian stated on his Steve Harvey FM radio show:
Y'all quit talking about 'she [Marjorie] was in my other marriage and ruined it. She didn't. She was nowhere around that. I got divorced in 2005.