Highlights
Leonardo DiCaprio, Brad Pitt, and Margot Robbie had great chemistry during interviews, but things got awkward between them during the standing ovation at Cannes for Quentin Tarantino's Once Upon a Time in Hollywood.
Tarantino seemed to relish the attention and showed affection to his wife and whispered to Margot Robbie, while the main cast looked uncomfortable with the camera crew sticking a camera in their faces throughout the applause.
Brad Pitt playfully joked about Tarantino in the past but praised his work, while Leonardo DiCaprio was nervous about improvising a scene in the film but ultimately delivered a memorable performance.
Not only are they great in the films, but Leonardo DiCaprio, Brad Pitt and Margot Robbie also have great chemistry together during interviews. However, during this particular moment, things got awkward between the three and the others. Quentin Tarantino's Once Upon a Time in Hollywood was a major success with the Cannes audience. However, the standing ovation proved to be very awkward.
Tarantino was relishing the moment, while things were a little odd for the stars of the film. We'll take a look back at what went down during the ovation. We're also going to put the spotlight on Tarantino and his relationship with the film's cast.
RELATED – Margot Robbie Couldn't Keep It Together After Brad Pitt And Leonardo DiCaprio Revealed They Both Get Mistaken For This A-List Actor
Brad Pitt, Leonardo DiCaprio And Margot Robbie Had A Camera In Their Face During Quentin Tarantino's Standing Ovation At Cannes
Quentin Tarantino is quite familiar with the Cannes Film Festival, leaving quite the mark back in 1994 with Pulp Fiction. In May of 2019, Quentin was as it again, this time was an entirely different cast featuring the likes of Brad Pitt, Leonardo DiCaprio and Margot Robbie.
The result for Once Upon a Time in Hollywood was a positive to say the least, especially at Cannes. According to Variety, Once Upon a Time in Hollywood scored a six-minute standing ovation at Cannes.
The publication writes, "Twenty five years after Quentin Tarantino took Cannes by storm with "Pulp Fiction," the maverick director returned with "Once Upon a Time in Hollywood," receiving a six-minute standing ovation at Tuesday's glittering premiere. It's one of the longest such receptions at this year's festival."
"Tarantino seemed to relish the attention, mouthing "I love you" to his wife Daniella Pick and whispering in the ear of Margot Robbie, one of the film's stars."
Although it was a great moment for the filmmaker, a lot of fans argued that the applause dragged on, and that the camera crew weren't doing the main cast any favors by sticking the camera in their face throughout the applause. Most can agree, it would lead to some awkwardness.
RELATED – Brad Pitt And Margot Robbie Burst Into Laughter After They Completely Forgot About Their Time Together In A Particular Film
The comments section on YouTube was flooded with remarks about the awkwardness involved during the moment.
"I've never seen actors look so uncomfortable in front of a camera before." Another fan wrote, "It's not just the cameraman that is weird but every single person that awkwardly clapped for 3 minutes straight."
Tarantino's applause was merited, but most would agree, it should've been half the length…
Brad Pitt Has Poked Fun At Quentin Tarantino In The Past, But Praises His Work
Brad Pitt playfully joked about Quentin Tarantino in the past. That held true for Tarantino's supposed run-in with the law. Pitt poked fun at Quentin serving time for unpaid parking tickets. He said, "As you know, my man is very verbose. He's the only guy I know who needs cocaine to stop talking."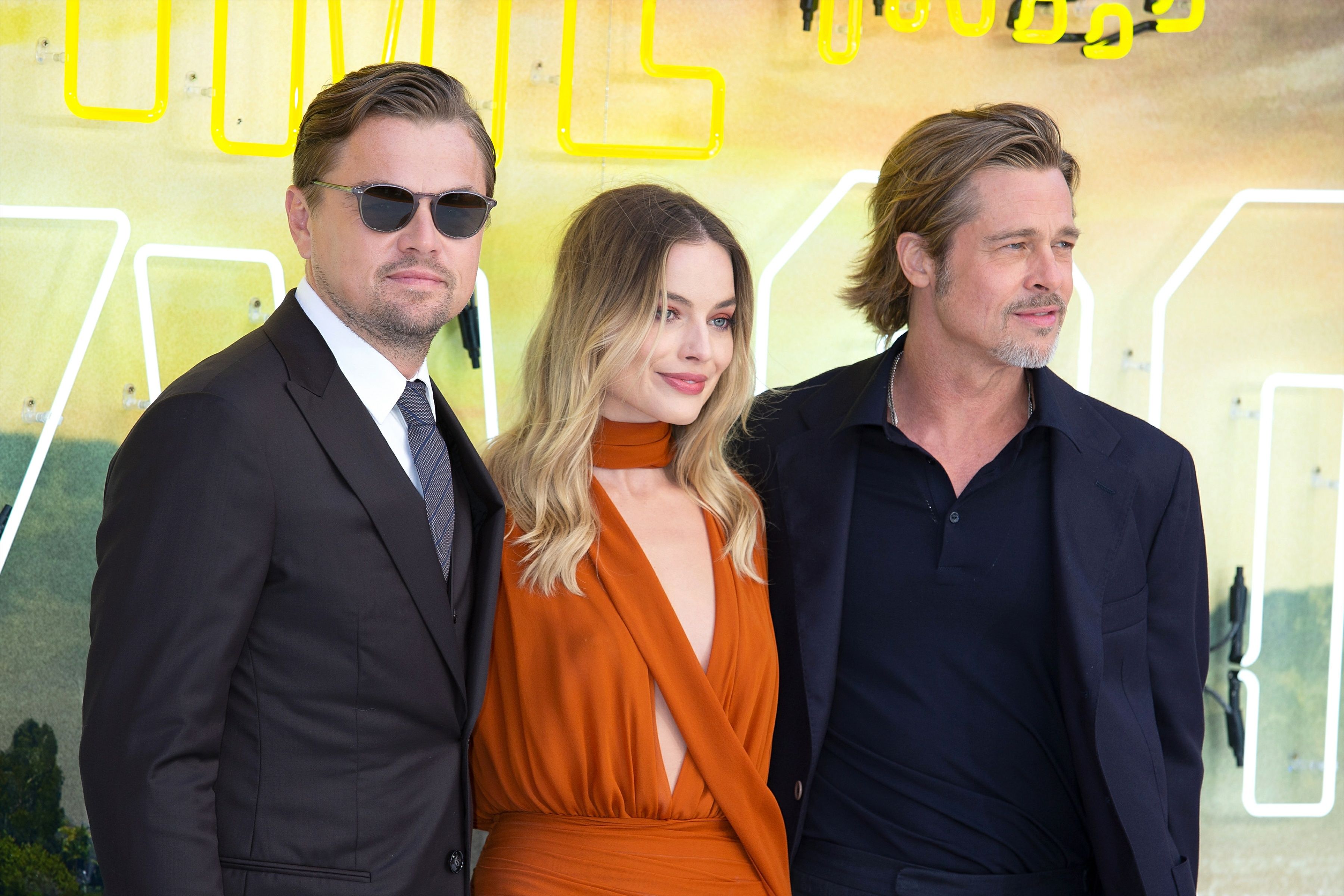 Despite the jokes about Tarantino, Pitt was quick to shower the director with praise. Pitt noted that his characters in films always tend to fall in line, without any doubts.
"You know when you're out in public and you say something stupid … and it's not until the drive home that you figure out what you should have said? His characters never suffer from that," Pitt said. "There's something to the music, to the rhythm in his writing. I call it 'iambic Quintameter.'"
RELATED – A Fan In The Audience At The Jimmy Kimmel Show Completely Stole The Spotlight During Leonardo DiCaprio, Margot Robbie And Brad Pitt's Surprise Appearance
Working with Tarantino proved to be a blessing for Pitt's career as he took home an Oscar for Best Supporting Actor.
As for Leonardo DiCaprio, he had several experiences with Quentin. Though some proved to be more stressful than others.
Leonardo DiCaprio Was Nervous Towards Quentin Tarantino's Approach, Especially During A Certain Scene In Once Upon A Time In Hollywood
Tarantino's applause aside, Leonardo DiCaprio was apparently nervous to improvise a Once Upon a time in Hollywood monologue. Actors tend to vary in terms of preferences. Some are strict about following a script, while others love to put their own spin on certain things.
For DiCaprio, a certain meltdown scene as Rick Dalton made him extra nervous given that the guidance was limited. Ultimately, it was another example of Tarantino showcasing the best out of his actors, as the scene proved to be among the most memorable of the entire film.
Quentin revealed, "So I got Leo and I was saying, 'So look, here's what I want to do: I want you to come in having fucked up on set not knowing your lines and I want you to come in the trailer and have a whole mad anger at yourself, detest fest, a complete temper tantrum against yourself. Just a gigantic pity party where you just lose your shit, but against yourself, nobody else. And I want it to have the randomness of an improv, it just comes out of you.'"
He continues, "He was a little nervous. It was actually very cute that he was nervous that day because it's on him and he knows that."
As expected, everything turned out to be just fine for DiCaprio and his improv work.