Highlights
Adam Sandler and Shaquille O'Neal had a friendly relationship before working together on films, with O'Neal constantly badgering Sandler for a movie role.
O'Neal's comedic talent was showcased in his role in Grown Ups 2, surprising even Kevin James with his funny performance.
Sandler attempted to catch O'Neal in the shower out of curiosity, but was caught by O'Neal's bodyguard. However, O'Neal responded with humor, making light of the situation.
Before Adam Sandler and Shaquille O'Neal worked together on a series of different films, the two were on friendly terms with one another. This is not a surprise given that Sandler has proven time and again that he is one of the nicest men in Hollywood. With Sandler being a huge NBA fan, specifically a Los Angeles Lakers fan, he and O'Neal would banter back and forth during games and built a relationship with one another.
While O'Neal was a great basketball player, he also had a desire to get into films. Sandler has had several of his films gross over $100 million at the box office. Because of this, O'Neal would constantly badger Sandler to be cast in one of his movies. Sandler eventually agreed to cast O'Neal in a film but it came with a stipulation; O'Neal had to win a championship.
RELATED: Did Adam Sandler Really Miss Out on Friends With Jennifer Aniston Because Of David Schwimmer's Height?
Eventually, not one but four championships were won with O'Neal's help. The wins helped O'Neal to boost his net worth after divorcing and losing a substantial amount of money. Because of this, Sandler called O'Neal up and offered him four movies for the four championships. O'Neal agreed. However, O'Neal was not expecting Sandler to catch him in a compromising position during his first movie.
Adam Sandler And Shaquille O'Neal Worked Together On 'Grown Ups 2'
After Sandler offered O'Neal a four-movie deal as a result of winning three championships with the Lakers and one with the Miami Heat, the first script that came O'Neal's way was Grown Ups 2. While the role offered to O'Neal was not a starring one, it put O'Neal's comedic talent on display.
It also showed Sandler and director, Dennis Dugan that there was some talent to work with from the now-former basketball star.
"[O'Neal] walked in and said we were hiring him, so we said, 'Yes sir!'" Dugan recalled of working with O'Neal. "Shaq is a genuinely funny guy. He's really funny in the movie. He's not just a stunt cast. He's a genuinely funny actor."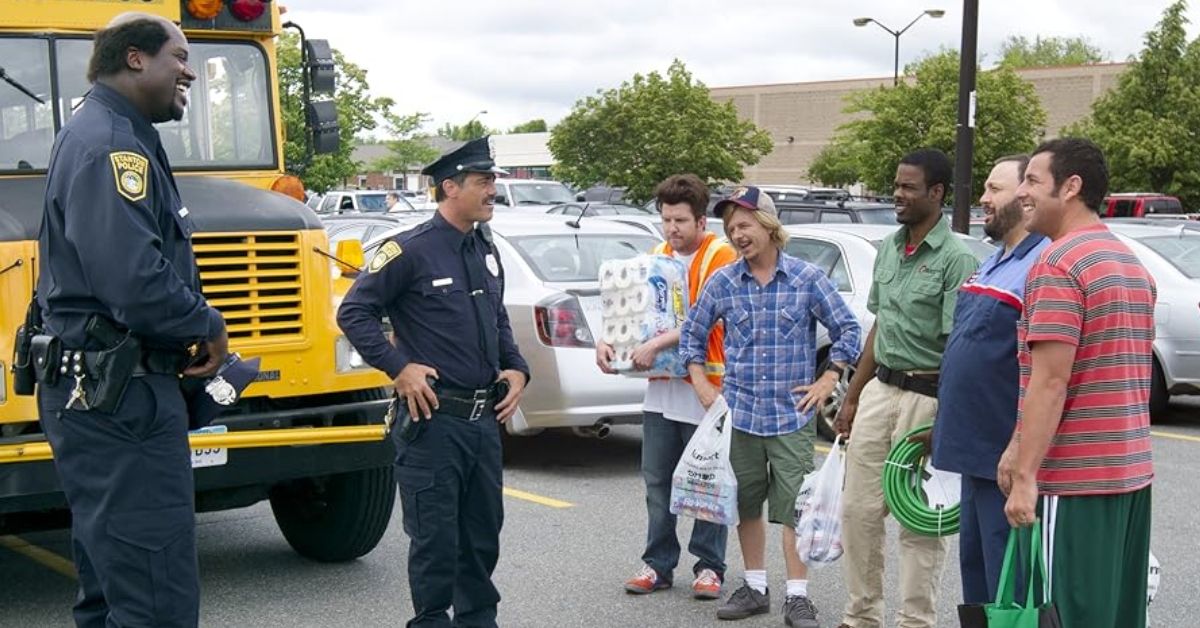 Even Kevin James could not believe how funny O'Neal was in the movie. So funny, in fact, that James had a hard time wrapping his mind around the fact that O'Neal could be so good at both basketball and acting.
"I gotta tell ya, usually when a guy's good at one thing, okay, enough already. That thing is basketball," James explained. "Then he comes into our world and you think, 'Okay, now we'll show him who's boss'."
James went on to say, "He honestly is probably one of the funniest in the movie. It annoyed me at some level. How does a guy effortlessly transfer from being a fantastic athlete to being one of the funniest guys on set? It was with his timing and just knows… adds funny stuff and improvs. Ask Sandler about it."
RELATED: Adam Sandler's Co-Star Friends, Ranked From Richest To Poorest
Despite the fact that O'Neal was so funny in the film, that was not what Sandler was fixated on when it came to the retired NBA star. It was, instead, something more personal about O'Neal that Sandler had to see.
Adam Sandler Tried To Catch Shaquille O'Neal In The Shower
Given O'Neal's size, Sandler wanted to see if everything was proportionate to his 7'1″ frame. Sandler apparently wanted to try and catch Shaq in the shower.
"We play basketball. We have to get back to the movie set. Shaq has to take a shower," Sandler explained. "So, everyone's like, 'Okay. See ya later, Shaq.' In my head, I'm like, 'I've gotta see Shaq [naked].' I can't pass up that opportunity."
"You had to see it for historical reasons," Conan O'Brien interjected.
"Yeah. It's not a gay thing," Sandler said. "It's just like, gotta see that."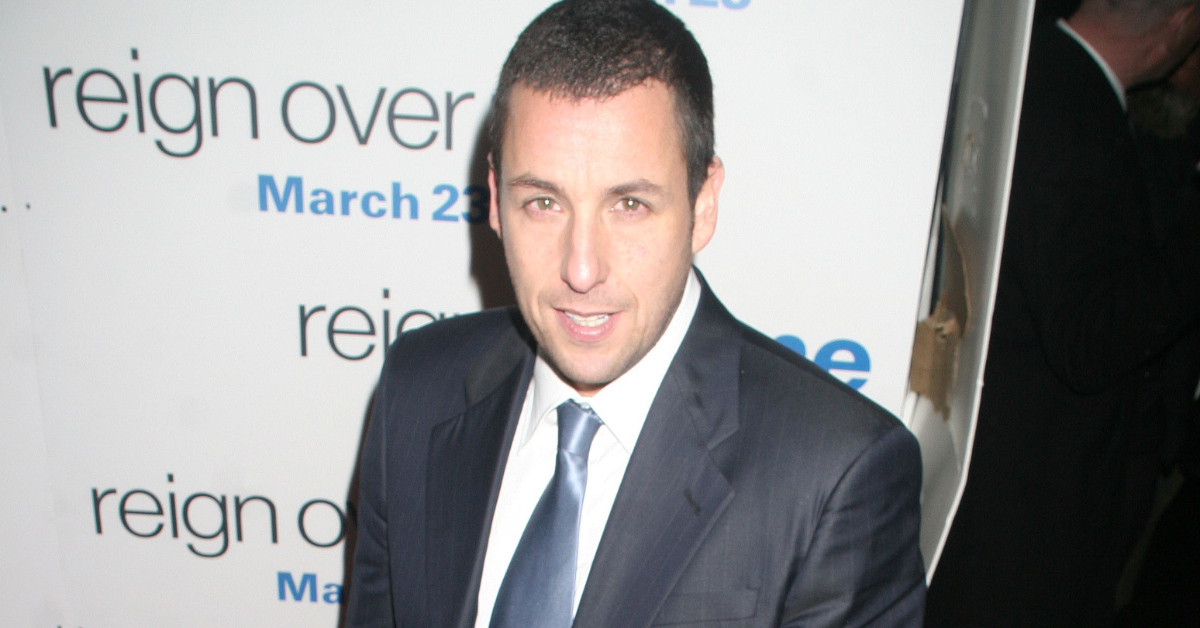 Conan responded, "It's like the Grand Canyon. You gotta see it. You gotta see it. You can't live and not see it. I get this completely."
"Thank you," Sandler said. "So my plan was to kind of… I hear the shower go on in the back and I said, 'Alright. I'm just gonna…'"
"In the back of what?" Andy Richter asked.
"In the locker room," Sandler replied.
"Oh," Richter said. "I thought it was in his trailer or something."
"No! It was a gym," Sandler stated. "We played basketball."
Sandler went on to say, "So it's at a high school and he's showering away, being the Shaq down there in the showers. Everyone else left. I'm like, 'Okay. Let me see that thing.' I go back there. I hear the shower. I kind of turn around backward and walk backward."
"Walking backward because you want to look…" O'Brien asked.
"Like I was going to track him," Sandler stated. "Like, 'Saw it! Hey, what's up?' But no. I'm walking backward, doing my routine, getting closer to the shower and I turn around and I go, 'Alright. I'm gonna see Shaq's thing right now'."
Sandler continued, "His bodyguard is there. His bodyguard is just so strong and big. He has a thick neck, bald head, and this one eye. He's looking at me with this one eye."
RELATED: Were Any Of Shaquille O'Neal's Wives Bothered By His Considerable Height?
"So, I said, 'Sorry. I was just trying to see Shaq's penis'," Sandler explained. "'I apologize and I'm outta here. Please don't tell Shaq.'"
Despite the fact that Sandler asked the bodyguard not to say anything, he was pretty sure that O'Neal was going to find out what his plan was while O'Neal was in the showers. As such, Sandler thought the best thing to do was to be honest and apologize for what he had attempted to do.
How Shaquille O'Neal Reacted To Adam Sandler's Invasion Of Privacy
Sandler felt guilty for trying to spy on O'Neal, or at least getting caught trying to and wanted to clear the air once both were back on set to make sure that there were not any hard feelings.
While Sandler expected O'Neal to be cool about what had happened, he did not expect the answer that O'Neal gave him. An answer that proves just how funny O'Neal is and confirms what all of his co-stars say about his comedic prowess.
"I see Shaq later on, on the set, and I guaranteed that guy ratted me out," Sandler explained to O'Brien. "So I said, 'Shaq, sorry about that before with your security guard.' And he was like, 'I don't got a security guard. That was my d**k'."
"So, yeah. That was pretty good, huh?" Sandler asked.
Given that O'Neal has such a sense of humor, Sandler was lucky that he got off as easy as he did. However, Sandler likely knew that O'Neal would be good-natured about the stunt he tried to pull, otherwise, Sandler would not have done it in the first place.